Email Marketing Southampton
Email Marketing is a very commonly used marketing strategy for organisations to communicate with their existing customers. Email Marketing is also a superb method of connecting with new target market customers through a series of strategic campaigns.
We have extensive experience providing email marketing services to a wide range of organisations operating in different vertical markets. From creating email marketing templates to providing email marketing software for sending strategic campaigns, we provide a full range of e-marketing services.
Street Credits Email Marketing system makes it quick and easy to create and send strategic e-marketing campaigns to target market segments. Existing clients can log in using their account details below.
Download Our Useful Email Marketing Tips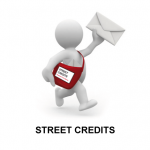 Email Marketing Advice Guide

E-Marketing Strategy
The very first thing we do is build an acquisition strategy in order to drive engagement. We need to know your business objectives, who your target audience is and how they interact with your brand.

Design E-Shot
The most effective email marketing campaigns comprise of beautiful designs which captivate the target audience, capture their imagination and succinctly communicate your value proposition.

Analyse Open Rates
We monitor open rates so that we can quickly respond to customers showing an interest in the e-shot. Bench marking against average unique open rates in similar industries also helps us measure the success of the campaign.
Build Database
We build a specific database to ensure you're sending targeted communications not just 'batch and blast' messages. This can also help with personalisation to increase conversions.

Test E-Shot
Before sending any e-shot, testing the campaign is essential. With so many Smartphone users, we ensure that the e-shot is perfectly optimised for all types of devices including pads and mobiles.

Measure Campaign
It is essential to measure every campaign to make informed decisions as to how to improve and develop the strategy. We use comprehensive reporting to analyse open rates, unique clicks, soft and hard bounces and much more.

Upload Email List
Once we have a refined email database segregated into new and existing customers, we upload the complete list into the email marketing dashboard ready to send targeted e-shots.

Send Emails
Once the database has been completely uploaded, the design has been refined and the campaign has been fully tested on all types of devices; we are ready to launch the campaign and send emails.

Receive Enquiries
Ultimately the success of any e-marketing campaign is measured by the number of enquiries you receive as well as the sales that come from them. Our strategic email marketing campaigns ensure a consistent Return on Investment (ROI).
E-Marketing Design
package
£200
Per Design
Design E-Shot
Images & Assets
Content Creation
Responsive Design
Test E-Shot
Enquire Online
E-Marketing Campaign
package
£300
Per Campaign
Upload Database
Set Up Account
Create Campaign
Design E-Shot
Reporting & Analysis
Enquire Online